Shot Blasting Services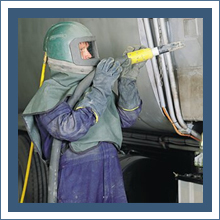 Shot Blasting Services
Service Description
Shot Blasting Services
With our age old expertise, we have been able to carve a distinct niche in the industry for rendering Shot Blasting Services. Our offered services are used in various industries that deal with metals for cleaning and polishing metals. These services are applicable in industries such as automotive, construction and aerospace. In order to provide these services at the customer specified destination, our professional team reaches within the right stipulated time. Our Shot Blasting Services is offered to clients at cost effective charges.
Features:
Apply shot peen & dry blast finishes
Easily process the part which is as small as fingertips to 15 feet long
Used for removing burrs, scale, and rust
Ability to encapsulate different shapes
Range from purest glass bead #1 to 1/8 inch shot peen
In electronic and electrical molds fine finish is popular whereas roto-molds and blow mold industries heavier finish
On critical parts gloss levels are controlled by finer media
Enhanced the part life
Smooth finish of material
Safe operation
Excellent cleaning
Everlasting polish
Delivers high production rates
Dust free
Can be easily performed either outdoors or indoors
Cost-effective solution
Shot Blasting Facts:
Effective on steel as well as concrete
Removes upto 1 inch of concrete
Can be performed with little disruption to daily operations
We offer:
Sand-Blasting
Grit-Blasting
Bead-Blasting
Abrasive Blasting
Dry Blasting
Quality, Service, Value
Accurate and precise measuring tools used
Computer generated designs & patterns with latest Software
Can quote your job from a 3-D & 2-D file (PDF, JPEG, DWG, DXF, CDR)
Time is priority
A single source for all the users for polishing, engraving, blasting, plating and texture needs. Contact Us for Details!